The
Buddha statues
are not only physical representations of the Buddha's appearance, but they are also a sign of the Buddha's teachings, great luck, calmness, and a source of encouragement for all humanity. Buddhists have the view that reciting or praying in front of a statue of the Buddha results in some form of happiness that, in turn, brings about peace of mind, heart, and soul. Buddha sculptures serve as a reminder of how to get the greatest insight of life possible because the name Buddha is more than simply a word.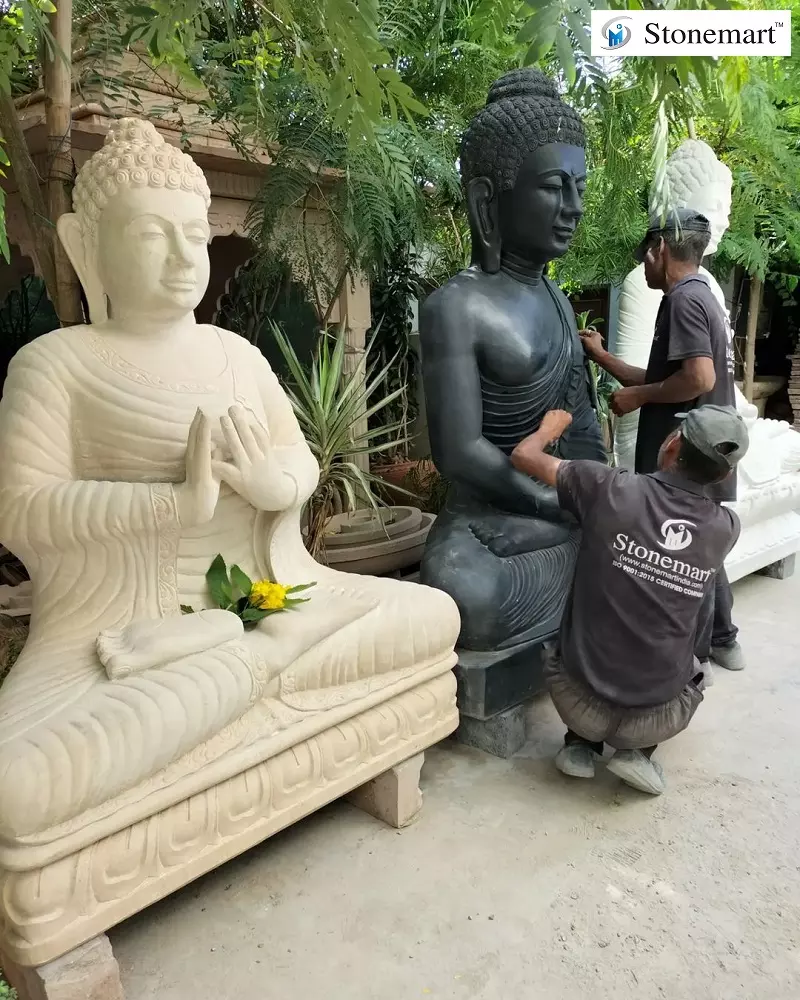 Feng Shui concepts assist to choose and arrange
outdoor Buddha sculptures
. Most individuals like to install an outdoor Buddha statue in a garden, but do have other options, especially if they don't have a garden or simply want to display it somewhere else. Backyard gardens are the most popular place for
outdoor Buddha statues
. This location, which is typically quiet, is excellent for creating a specialized reaches a specific for statue. To draw auspicious chi flow into home, put the Buddha statue facing it, ideally the back door. yard must be clog in keeping with feng shui concepts. Ideas for Buddhist Gardens the Zen-style garden and the Mandala-style garden are two examples of specific Buddhist garden layouts.
A dry garden in the Zen design is simple and clear of various forms. A dry garden frequently consists mostly of raked, white pebbles and a few simple trees and shrubs. Like islands in a sea of pebbles, plants and stones are gathered. Around the clusters, the pebbles are scraped in patterns to resemble ocean waves.
A sacred mountain, which would be usually shown by a large, upright stone, is the focal point of a garden in the Mandala design. The mountain, which serves as the axis between both the earth and the skies, is normally believed of as the centre of the cosmos. Visitors can see mountain to their right as they walk through the garden.
Beyond the Backyard to Buddha Statue Placements
Desired person who wants to create Buddha garden are not bound to a Buddha statue in the backyard. This god statue can be added to other outdoor spaces to improve them. This god statue can be added to other outdoor spaces to improve them.
Front space
An outdoor Buddha statue on front porch if house has one. The statue can be placed so it faces the staircase and welcomes family and visitors. This position confers blessings and great good luck.
Side Yard Positioning
Put a statue in designate a dedicated garden spot for it if there is a side yard. The best location for a Buddha statue is facing house, ideally toward an interior door.
Places in the front yard
Buddha statues might find resting places in front yard gardens. Place the statue so that it faces the entrance. may choose to orient it so that the Buddha is seen by everyone who walks down the walkway.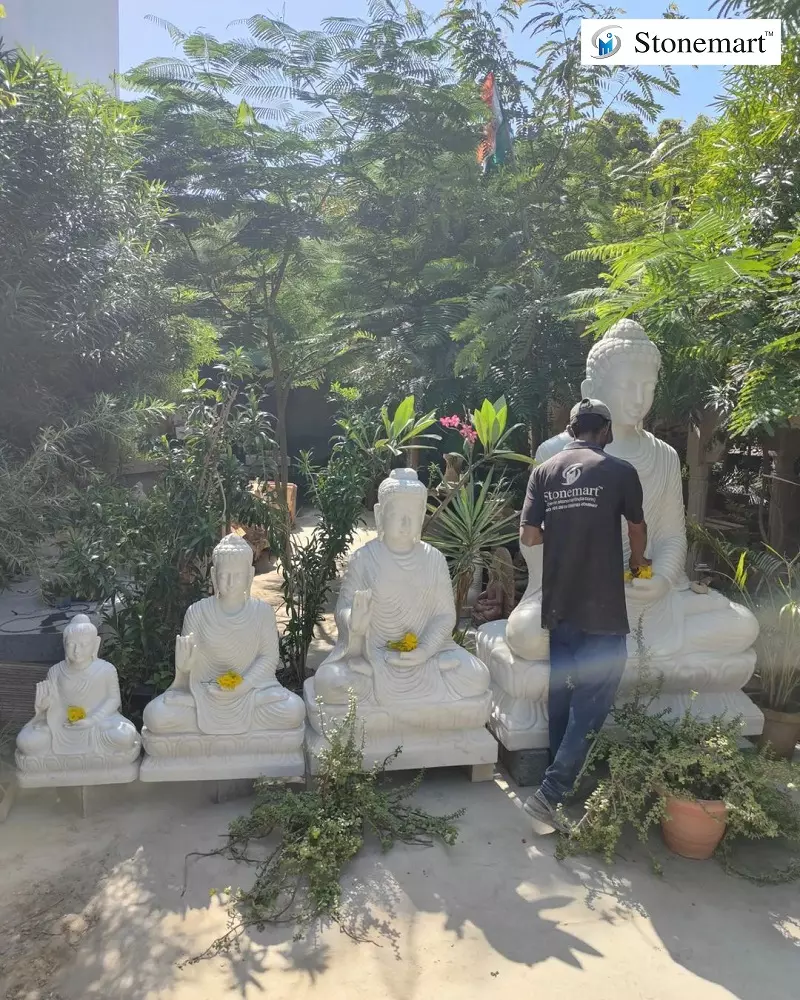 How to Create a Buddha Home Garden?
There are many ways to include a Buddha statue into the outside of house's garden. By choosing plants, placing supportive garden items, and beautifying the space around the statue, there should be a plan for creating Buddha garden:
Make a decision concerning the placement or focal point of new Buddha garden.
In design, place the Buddha statue first.
Discover out which plants are appropriate for the location of garden.
For ideas and suggestions for a Buddha garden, visit surrounding gardens.
Put arrangement plants so that they provide as a spiritual foundation for statue.
Think about adding a water feature in landscape.
To create a layout, sketch it out or utilize a garden design pattern.
A Buddha garden would be inadequate without some sitting. Even so, a person needs a seat so they can unwind and enjoy in the beauty of the garden. The ideal solution might be a simple wooden bench or even some big, flat, flat stones.
Even something as basic as a flowing waterfall or a more sophisticated koi pond design may be pleasant and give a place of comfort feeling. If someone want to build an authentic Buddhist garden, don't miss to include lotus flowers in pond.
Dos and don'ts for Outdoor Buddha Statue Placements
Advice for placing Buddha statues properly outside is presented by feng shui principles. Make sure to abide by such rules when placing a Buddha statue to avoid unlucky situations.
Buddhist gardens are known for their lanterns, but traditional lanterns don't function as sources of lighting. Lanterns were originally adopted as symbols of worship to honour Buddha or cherished ancestors in temples and shrines.
Never set a Buddha statue down on the ground directly. This placement is regarded as being extremely disrespectful. Putting Buddha statue on shelf, big rock, platform, ledge, atop a pedestal or table will enhance it.
Don't select a Buddha face statue. This kind of statue is regarded as being very insulting and offensive.
Put a Buddha statue away from a garage, a trash can or bin, and places where there is utility.
A Buddha statue will not be placed on a playground. Remember that this is a religious sign and not a decor, thus it should be placed in a position that honours it.
Place the statue someplace else other than by the driveway or close to a letterbox because doing so shows a lack of respect and reverence for the person or thing the sculpture symbolizes.
Try to put the Buddha so that it faces east and the rising sun.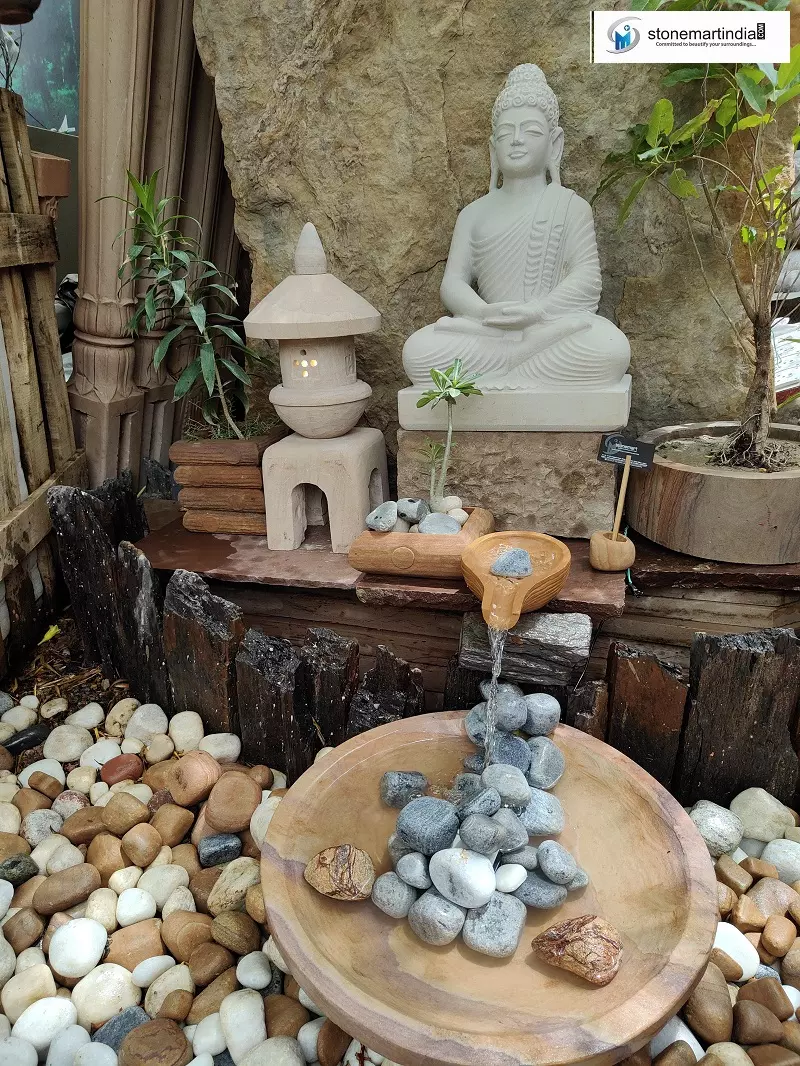 Meditation niche with a Buddha statue
It's conceivable to create a meditation area in garden or that is still in the planning phase. Peace and quiet should be the key focus. These can be achieved by placing plants in this area and making sure there is enough space for a mat for sitting or doing yoga. A Buddha statue placed outside has helped to calm the mood and welcome visitors to the meditation space.
Types of Buddha idol for garden
Buddha in meditation pose
The Buddha is seated in the lotus position with his head up and his eyes closed.
Buddha of Protection
The Buddha may be seated or standing and has his right hand raised.
Smiling Buddha
Typically seen sitting and grinning, the Happy Buddha has a rotund belly and a shaved head. Some claim that touching the Buddha's stomach can bring you luck.
Buddha in a reclining position, or in Nirvana
To symbolize the dying Buddha who is laying on his right side and approaching Nirvana.
Buddha Touching the Earth
This Buddha can be found sitting with his right hand down to the earth and his left hand in his laps in most Thai temples.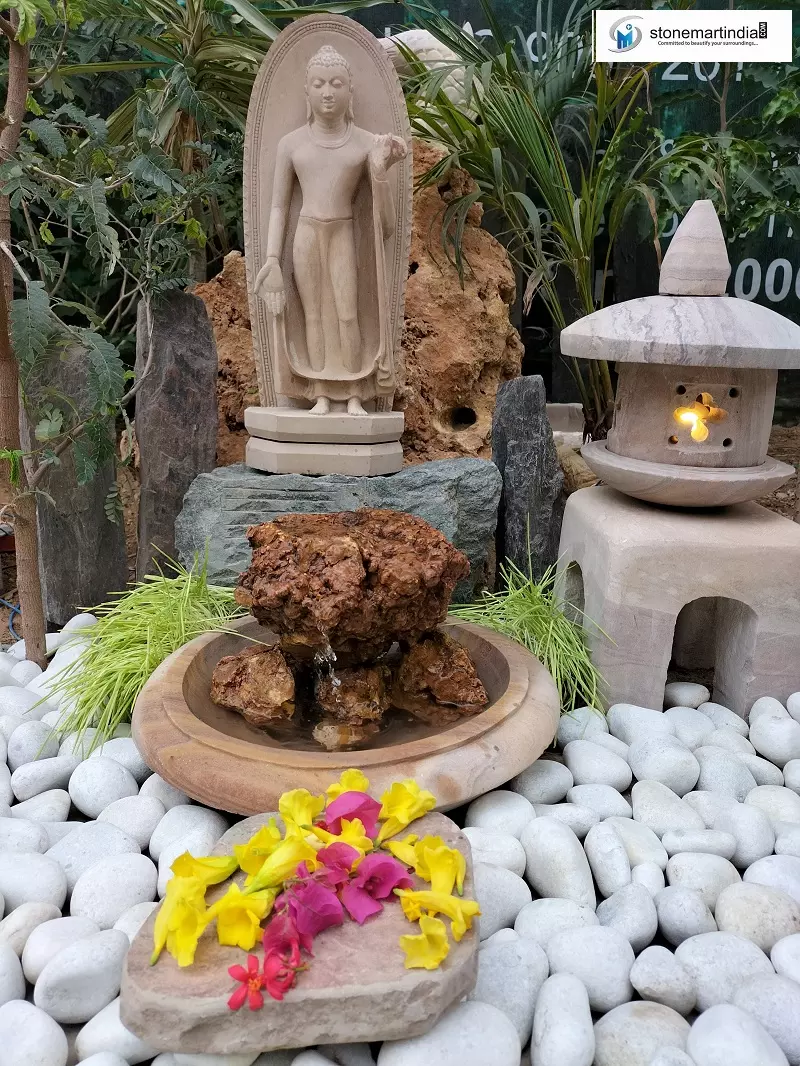 Best Buddha statue poses for garden
There are a variety of Buddha statue poses available. Each has a different meaning. Some portray a significant time in the Buddha's life. Others have symbolic implications that lend itself well to feng shui practices. The walking Buddha statue is perfect for a garden pathway, while the meditating Buddha statue is the best option for a meditation garden. Choose one Buddha statue pose that feels energetically for garden.
Big and small sculpture of Buddha
For outdoor garden, stone and
marble Buddha statues
are preferable and durable; and for big size Buddha stone statues are used. Marble Buddha Statues are a hand-carved, one-of-a-kind piece of white marble or black marble that is ideal for any garden, home, or temple in any weather—hot, cold, or rainy.
Stonemart™
The largest collection of Buddha statues is available for purchase online from
Stonemart™
, an ISO 9001:2015 and CE Certified Manufacturing and Export Organization in India. These statues are ideal for both outdoor and indoor settings and were expertly carved by Stonemart™ skilled murtikars. Order a stone or marble Buddha statue with a home delivery service in 7 days across India. Select from almost all mudras, like Dhyana, Dharmachakra, Vitarka, Abhaya or Anjali. For consideration, the best selection of
stone Buddha statues
and sculptures is presented here. May order marble Buddha statues for house and garden in India in different sizes, such as 2 feet, 3 feet, 4 feet, 5 feet, 6 feet or even more.