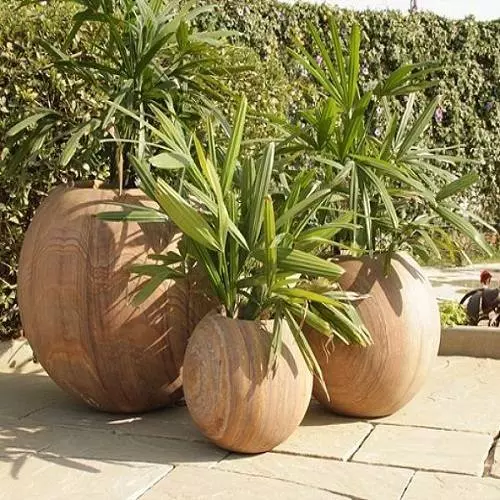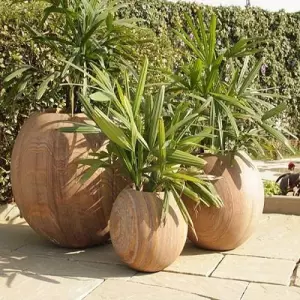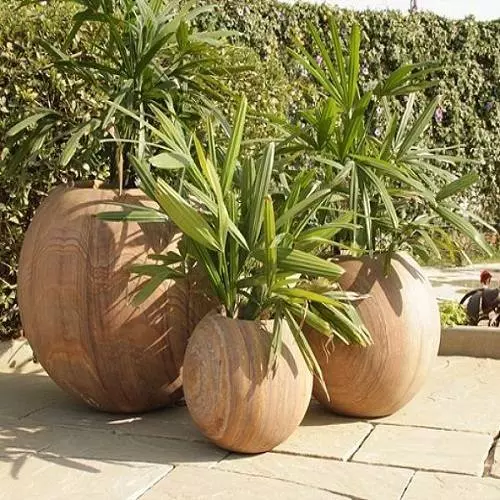 Sold Rainbow Sphere Pot Planter
---
CODE NO.: 6169
The rainbow texture of the
pot planter
is achieved by the expert craftsmanship of the most gifted artisans working at Stonemart™. Identifying the right quality natural sandstone, manually carving it an extent to achieve the desired finish and rendering the finishing touches to make rainbow texture over the surface of the pot more evident, our artists not merely work upon one but multiple levels. This
spherical pot
is a perfect decor choice for medium size plants and shrubs.
Where can You Place: This rainbow planter comes in different shapes and sizes, making it a pivotal choice for you to make as per the availability of the space and the location. It can be placed in the living areas, gardens, office spaces, hotel lobbies, restaurants, as well as at the areas for events and public gathering.
Durability: Our rainbow pot planter consumes least time and effort when it comes to the process of installation and maintenance. The surface spherically carved out of natural stone, it is not easily get affected by the change in weather or accumulation of algae, making it a trustworthy decor product for ages. Also widely shopped by our clients as sphere pot planter, they are widely regarded as an excellent pick online in comparison of the less durable pot planters made out of resin, ceramic, wood, or plastic.
International Shipment: This pot planter enjoys a high demand in the overseas market. Our potential international clients frequently explore for it online as rainbow sphere pot planter USA, rainbow sphere pot planter Dubai, rainbow sphere pot planter UK, rainbow sphere pot planter UAE. rainbow sphere pot planter Canada, etc.
Local Shipment: This sublime piece of craftsmanship is accessible at the click of a button across India as sphere pot planter India. Our shipment support and delivery network graciously cover all parts of the country. In various states in north and central India, we commonly find users searching for sphere pot planter in Uttar Pradesh, sphere pot planter in Rajasthan, sphere pot planter in Punjab, sphere pot planter in Maharashtra, etc. When it comes to the peripheries of deccan and southern states, we commonly get order requests such as sphere pot planter in Telangana, sphere pot planter in Kerala, sphere pot planter in Tamil Nadu, sphere pot planter in Goa, sphere pot planter in Karnataka, etc. to name a few.
Packaging: Get ready to find your order for rainbow sphere planter delivered in a quality wooden box container. The rainbow pot planter is shipped to the provided address wrapped with foam sheets and bubble wraps for excellent cushion against any type of transportation jerks and bumps.
Time to Reach: When available in stock, then within 7 days to all destinations across India. For export, depending upon the distance and the mode of shipment preferred, i.e., by sea or by air.
In Stock: No
For more queries or order or to request quote : Call/ WhatsApp at +91-9413348979 or email at
info@stonemartindia.com
Modest and stylish in one look, this rainbow sphere pot planter can tenfold your natural stone decor status. Book it now with absolute quality assurance only at Stonemart™.