Access the Smartest Deals Online for Natural Stone Decor Hyderabad Here
The culture of Nizams has always inspired the Hyderabadi residents to always foster the ambitions for Nawabi lifestyle. We at Stonemart™ offer a limited range of classic and luxury natural stone decor items to make your living space larger than life at the cheapest investment possible.
There are numerous reasons due to which the city of Hyderabad is distinguished as a confluence of art and culture. The city is widely adorned by the idioms like 'the city of Nizams' or 'the city of pearls'. The residents of the city are often referred to as Hyderabadis. The city was founded in the year 1591 AD on the banks of river Musi by Sultan Muhammad Quli Qutb Shah.
This Indian city is currently serving as the capital of two states in the country, known to be Andhra Pradesh and Telangana. Hyderabad is a city featuring a plethora of historical monuments including Golconda fort, Quli Qutb tombs, and Charminar. Yes, when it comes to the culture, then Hyderabad has a lot more to offer than Biryani. The distinctive culture of the town shall remain incomplete in terms of mentioning without the presence of medieval architectural heritage.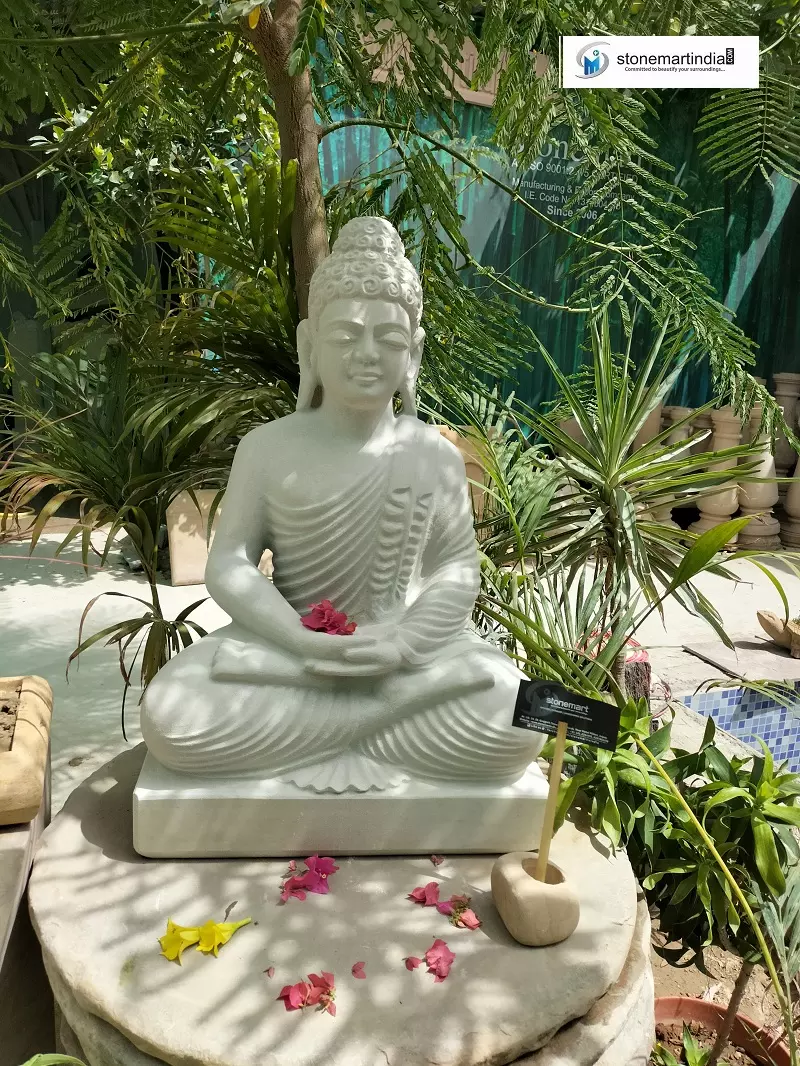 Hyderabadis are known for their love and passion about architectural style and design. The same can be reflected on the choice of stylised and intrinsically carved decor items ordered online for both interior and exterior. We at Stonemart™ understand the fact because we are the no. 1
natural stone decor supplier in Hyderabad
for the last 13 years. Let us learn about some of the prominent range of
stone decor products online
at
Stonemart™
that can help you make smarter and unique choices. Thereafter, you can reach onto the conclusion of confirming the order on your own.

Popular Range of Decor Products to Order in Hyderabad Right Under One Roof
We offer stylish, traditional as well as customised products to make your decor needs fulfilled to perfection. Let us have a glance over the wide range of natural stone products readily accessible to the most demanding clients in Hyderabad in just a matter of a click -

Buddha Stone Statues:
Welcome to the widest and the most exquisite range of sitting and
standing statues of Buddha
,
Buddha statue with fountain,
black and white
marble Buddhas
as well as the Buddha statues featuring diverse mudras and heights. Irrespective of the fact, whether you are looking for life-cycle Buddha, Sarnath Buddha, Bamiyan Buddhas, Buddha in dhyana mudra, Buddha statue in bhumisparsha mudra, Buddha statue in abhaya mudra, dharmachakra mudra, vitarka mudra, varada mudra,
thinking Buddha
or
reclining Buddha
to meet your home, office, commercial space, or
garden decor
needs.
Conventionally we offer small Buddha statues in centimetres to
Buddha statue of 1 foot
or 1.5 feet high. Clients seeking
big Buddha statues
can start their selection from
Gautam Buddha statue 5 feet
,
4 feet Buddha statue online, 3 feet Buddha statue online, Buddha statue 2 feet
or get the height and features customised as per the requirements.
Natural Stone Fountains:
Witness the widest range of
fountain decor
products suiting all your exterior and interior decor needs in one way or the other. We offer
Buddha fountains,
ball
fountains
,
diya fountains
,
designer fountains
, modern art fountains, tabletop fountains as well as the
fountains with birdbaths
that can be kept on the terrace, garden or backyard. Besides, there is an exquisite range of
4 tier grandessa fountains,
3 tier grandessa fountains,
and
2 tier grandessa fountains.
All our fountain models come with algae resistant surfaces, quality submersible pump and easy to install features processes.
Natural Stone Bird Baths:
In a busy chaotic city like Hyderabad, reconnecting with nature has never been this easy. Transform the cacophony of the city into the chirping of beautiful, tiny-feathered guests by installing
stone birdbath for garden
, backyard, and terrace. Birdbaths are accessible online in different varieties including crass natural rock style,
birdbaths with designer fountains,
and not to mention,
birdbath with
bird feeder online
.
Natural Stone Hindu God Statues:
People in Hyderabad always demand
natural stone Hindu God statue
to achieve their spiritual quest as well as to remove the vaastu doshas from the premises. Here, what is critical is to note that whether one is ordering
Hindu god statue
for spiritual need or vaastu need, it is recommended to only go with the statues that is cast from one component and free of impurities. That is where 100% natural
stone god statues online
offered at Stonemart™ can serve the purpose. Some of the most popular statues made from marble and sandstone, including
Ganesh statue
,
Saraswati statue
,
Lakshmi statue
,
Shiva statue
,
Nataraj statue
,
Narayan statue
, etc. are offered in different conceptual styles.
Natural Stone Planters:
There are designer concepts available in various forms of
stone planters.
Some of these include indoor
boulder planters, rock planters
,
pot shaped planters
,
pebble planters
,
boat planters
, as well as diverse forms of
teak sandstone planters
with a designer approach. Ordering planters from Stonemart™ would address your environmental concerns along with both interior and
exterior decor
needs.
Natural Stone Urlis:
It is indeed one of the stylish and elegant products to achieve your internal and external decor ambitions. You can place them on the floor level as well as tabletop and fill them with flower filled with crystal-clear water. A flabbergasting sight for both residents and guests who occasionally take their decor standards to a whole new level.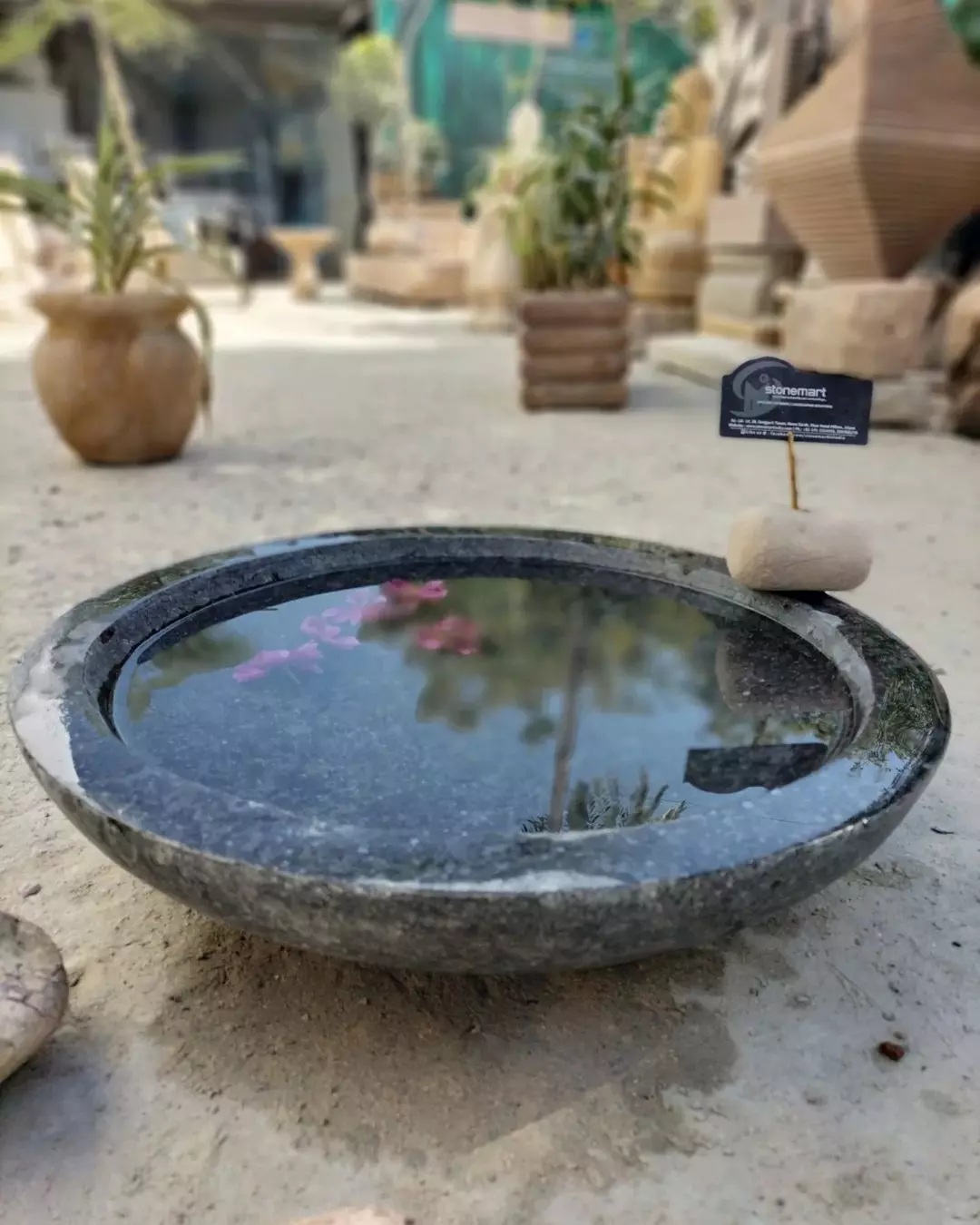 Bali Stone Sculptures:
Our sublime
Balinese stone sculptures
are immensely popular amongst the Hyderabadi residents. Apart from being a distinguished product for decor, they are a powerful medium of correct
Yoga
practises.
Bali stone statues
are depicted in different iconic
Yoga
postures to inspire a countless number of residents within the city to passionately adopt a culture of health and fitness.
Natural Landscaping Pebbles:
Behold the fascinating collection of colourless and coloured pebbles in the exterior paving, sidewalks and pathways that bestows a unique look to your garden, porch, and verandah. Besides,
stone pebbles online
can also be ordered at Stonemart™ to make transparent vases and other interior areas more glittering and colourful
.
Water Landscaping Features:
How about having your own mini waterfall in the properties that you live or frequently visit? Right from single monolith water landscaping feature to multi-layer water landscaping features, the rhythmic sound and view of the moving water can captivate any living soul.
Natural Stone Gazebos:
Hyderabad is known for iconic royal
Chatteris
or gazebos. We at Stonemart™ are ready to offer you a golden opportunity to relive the royal era at your own house. The stone gazebos at Stonemart™ are made from exceptional quality natural stone material to ensure enduring quality and artistic style in one go. It is undoubtedly a perfect addition to the backyard, garden, porch, or park of proper size.
Wall Stones and Panels:
Grace your interior and exterior walls with
natural stone panels
carrying extensively carved murals. Our
decorative stone wall panels
feature various forms of Hindu god panels,
Buddha wall panels
, as well as modern art and designer panels to help you achieve smart decor without utilising much space.
Natural Stone Signage:
A royal look to your premises would remain incomplete without the presence of a remarkable signage in front. We at Stonemart™ offer both classic and elite collection of signage carved out of natural stone. We supply stone signage to different types of houses, farmhouses, organizations, schools, colleges, institutions, restaurants, spas, hotels, NGOs, etc. in Hyderabad to make their presence among the masses distinguished and larger than life.
In addition to the different range of products listed above, we also offer
stone boulders
,
stone benches
,
stone circles
, pathways,
palisades,
and
stone lamps
to different parts of Hyderabad. Get in touch with our support representative and get your order booked from any part of the city.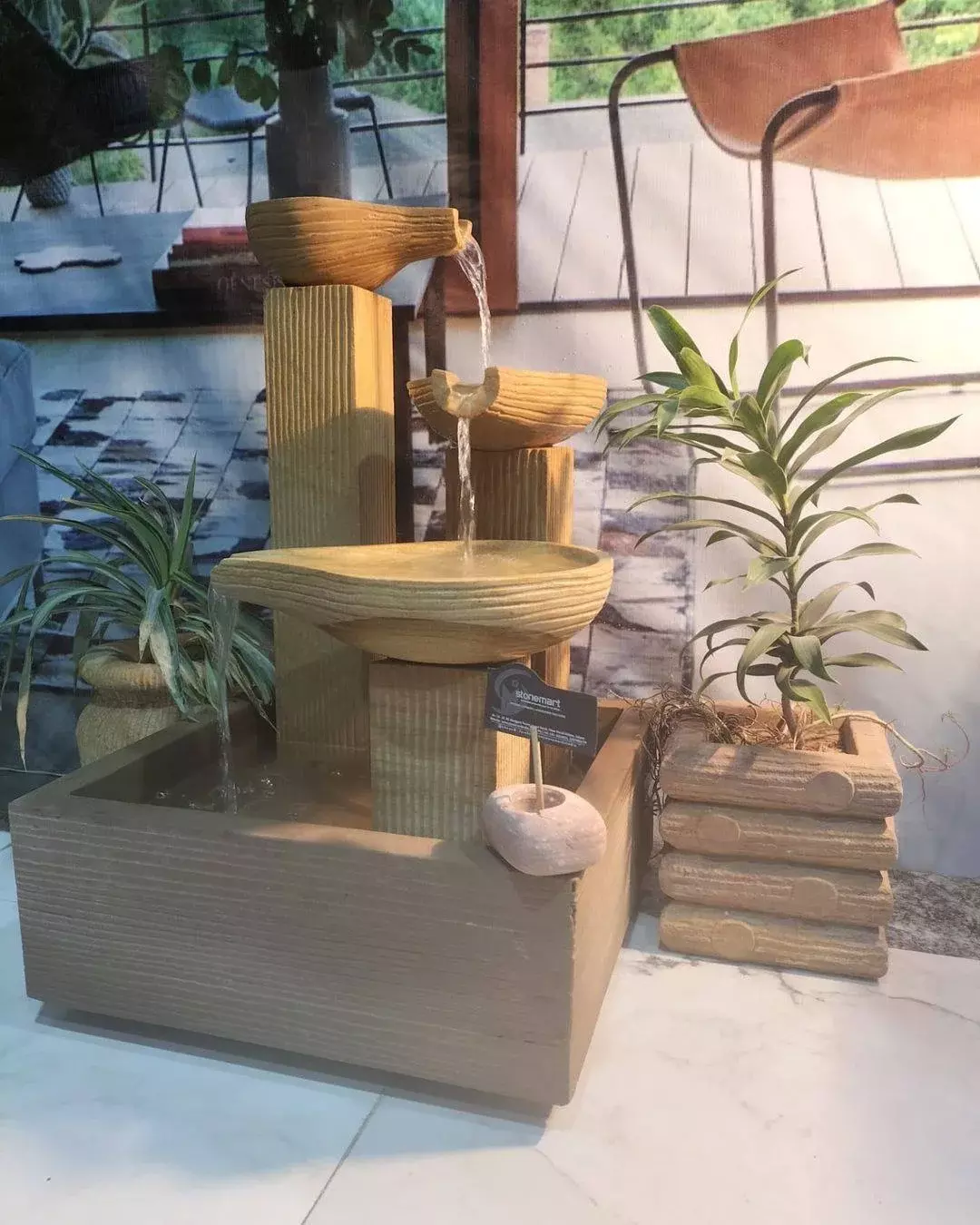 How the Exquisite Decor Collection of Stonemart™ is Influencing the Hyderabadi Decor Style Since 2009?
We have fostered a culture of sublime quality, time-sensitive services and cheap prices that ultimately helped us to become the leading natural stone decor service provider in Hyderabad. The following are some of our collective features that has ensured our presence light years ahead than our competitors -
Unmatched Global Standards: Our sincerity towards quality is not merely for years but for the decades. All our products are carved out of naturally excavated authentic quality stones through bona fide expertise, also least involvement of artificial machines.
Customized Products: Besides from the premium class of products range showcased in the gallery online, if you wish to order the product with certain personalised changes, then it is the time to express the same to our expert representative now.
Easy Installation: Indeed, whether you are ordering online the water landscaping features, stone gazebos online, fountains or palisades from Stonemart™, you are going to find the installation process to be relatively simple. The task can be executed even by a layman without waiting for professionals to intervene.
100% Natural, 0% Impurity: Are you exhausted by continuous quality and performance issues put forth in front of you by the decor materials made from wood, resin, ceramic, or plastic? It is the time to replace them with the real products offered at Stonemart™ and trust the purest quality without a blink of hesitation.
Supporting Local Artisans: All our Hyderabadi clients would feel proud to learn that all our decor products are 100% Indian made. We fully endorse the campaign 'Vocal for Local' and support native sculptors instead of the products made from machines. We firmly believe in relying upon human instinct and calibre and ensure livelihood for hundreds of local artisans with Indian roots.
Safest Delivery: The transportation of the given order is ensured to all parts of Hyderabad. All your orders online are made accessible to different parts of Hyderabad in reliable wooden crates with an additional layer of bubble wrap to make sure a convenient and faster delivery.
Our products and services represent a proven and trusted brand that has resulted in a distinguished clientele not only in India but across the globe. So, if you are a resident of Hyderabad and looking for a brand that can fulfil your
designer stone decor
dreams in all sense, then it is the time to enquire for our representative now.